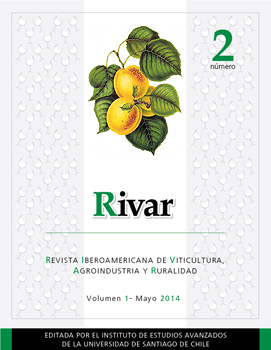 PRESENTACIÓN DE RIVAR MAYO 2014
Florencia Rodríguez Vásquez
La Revista Iberoamericana de Viticultura, Agroindustria y Ruralidad (RIVAR) tiene el agrado de presentar su segundo número, correspondiente a mayo de 2014. Esta nueva publicación es el resultado del trabajo colectivo de investigadores de amplia trayectoria y noveles.
Los abordajes históricos sobre la conformación de las regiones vitivinícolas en Sudamérica han estado especialmente centrados en la conformación de los núcleos económicos y productivos de cada una de esas regiones en el siglo XX (Beretta Curi, 1996; Del Pozo, 1998; Richard-Jorba et al, 2006). Estos aportes, en líneas generales, permiten dar cuenta del proceso de transformación técnica de una vitivinicultura artesanal a otra industrial para su inserción en una economía capitalista, el peso decisivo fomento estatal, la formación de burguesías empresarias, y la complejidad de un cambiante mundo laboral. Algunos de estos procesos encuentran antecedentes en períodos previos. Leer el artículo completo.
Artículos Generales

Enrique Normando Cruz.
Los vinos del marqués. El mercantilismo en una frontera del virreinato del Río de la Plata (siglo XVIII).
The wines of the marquis. Mercantilism on a border of the Viceroyalty Río de la Plata (18th century).

Julián Carrera.
Vinos y aguardientes en las pampas rioplatenses 1770-1850.
Wines and Brandy in the River Plate Pampas, 1770-1850.

Luisa Consuelo Soler.
Hombres de negocios e intereses económicos asociados con el tráfico de vinos entre España y América a finales del siglo XVIII.
Business and economic interests associated with wines traffic between Spain and America in the late eighteenth century.

Marcelo Mayorga Z.
La tradición de la producción artesanal de aguardiente en Cauquenes, 1771-1821.
The tradition of the handcrafted production of wine in Cauquenes, 1771-1821.

Diego Jiménez C.
La consolidación de la Denominación de Origen Pisco (1931): una mirada desde los debates parlamentarios y sus referentes internacionales (1901-1931).
The consolitation of Pisco Appellation of Origin (1931): a review from the parliamentary discussions and their international models (1901-1931).

Alejandra Buitrago S.
La vitivinicultura emergente en Bolivia y las oportunidades para el Singani.
The emerging viticulture of Bolivia and opportunities for Singani.
Documentos y Análisis de Fuentes

Teresa Alicia Giamportone.
Gobierno y vitivinicultura en la provincia de Mendoza (Argentina) a través del Álbum Argentino Gloriandus.
Government and the wine industry in Mendoza (Argentina) through the Album Argentino Gloriandus.
Reseña

Ivana Hirschegger.
Barrio, Patricia. Hacer vino. Empresarios vitivinícolas y Estado en Mendoza (1900-1912). Rosario, Prohistoria ediciones. 2010, 298 pp.